In the event of an emergency, you want experienced medical personnel working on your pet. One or more veterinarians are always staffing our clinic. Each is an experienced emergency clinician. Our veterinarians have a combined 80+ years of emergency experience.

At the North Peninsula Veterinary Emergency Clinic we have a team of highly skilled Registered Veterinary Technicians and Veterinary Assistants to care for you and your pet. We are very proud of our highly-qualified and deeply compassionate veterinary team.

​​​​​​​Medical Director
​​​​​​​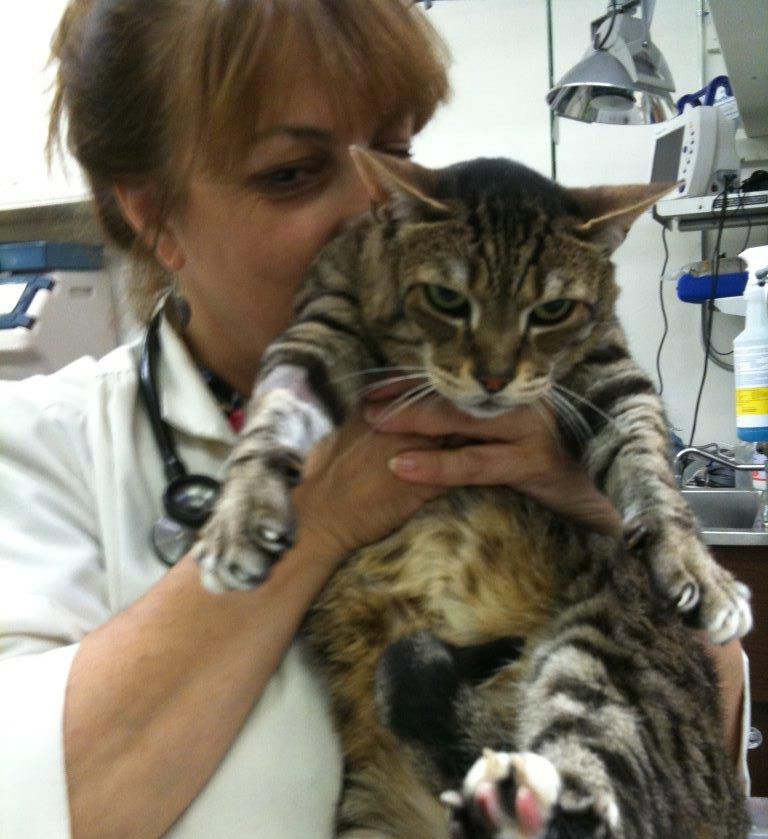 Dr. Sophia Papageorgiou, DVM
Dr. Sophia Papageorgiou has worked with animals since age 15, starting out by cleaning cages at the Education department at the San Francisco Zoo. She received her B.S. from the University of California (UC) at Davis where she double majored in Animal Science and Zoology and enrolled at Tufts University's School of Veterinary Medicine where, in addition to her veterinary studies, she focused on international and wildlife medicine. While in veterinary school, Dr. Sophia performed field research on African Elephants in Tanzania. After graduating from veterinary school, she spent a year in a small animal internship at the Southwest Veterinary and Specialty Center in Tucson, Arizona, focusing on emergency and internal medicine, and surgery followed by a one-year wildlife veterinary internship at the PAWS Wildlife Center outside Seattle, WA where she was responsible for treating bear cubs, seals, bald eagles, deer, raccoons, and numerous seabirds and songbirds. She has worked as a zoo veterinarian and for a number of small animal veterinary clinics in San Francisco and San Mateo counties. She completed a Master's in Preventive Veterinary Medicine and a PhD in Epidemiology at UC Davis in 2010. Her Master's investigated cheetah reproductive problems for conservation efforts and for her PhD she studied tick-borne pathogens in Mongolian reindeer and livestock on horseback alongside nomadic and pastoral herders.

Dr. Sophia enjoys field research, traveling to exotic destinations, ice skating, and photography, as well as spending time with her kitties Baxter and Anakin adoptees from the UC Davis Veterinary Medicine Teaching Hospital blood donor ward. While Dr. Sophia enjoys working as a field veterinarian, she has a particular interest in caring for companion animals and ensuring that they receive excellent care during emergent situations.

​​​​​​​Our Doctors
​​​​​​​
Dr. Joel Wolf, DVM
Dr Wolf received his B.A. in Integrative Biology from UC Berkeley and his Doctor of Veterinary Medicine from UC Davis in 2000. He completed a rotating internship in small animal surgery and internal medicine at the Animal Special Group in Los Angeles. After completing his internship, Dr. Wolf worked part time at multiple emergency and small animal general practices throughout the Bay Area. He became a full time staff veterinarian at NPVEC in 2004. When not at work, Dr. Wolf enjoys golfing, snowboarding, playing poker, and spending time with friends and family.
Dr. Kelly Hovde, DVM

Dr. Hovde has been a staff veterinarian at North Pen since 1995. She is a graduate of the College of Veterinary Medicine at the University of Illinois. She completed a Small Animal Emergency Critical Care Internship from Veterinary Emergency Service in Fresno, Ca. She is a member of VECCS, PVMA, AVMA, and IAAHPC. Currently she works as a relief veterinarian at the San Jose City Shelter. She particularly enjoys geriatric medicine. Dr. Hovde lives with her cat Dino.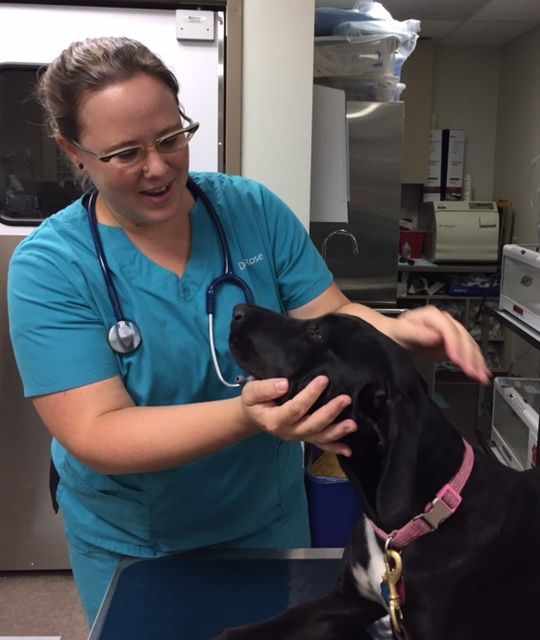 Dr. Sara Rose, BVMS

Sara Rose holds a BS in Avian science from UC Davis and completed her veterinary degree in 2012 at the University of Glasgow, Scotland, graduating with distinction in pathology. Immediately following graduation, Dr. Rose finished a small animal rotating internship at a private referral center in Boston. She then went to work at an emergency and referral hospital for two years in Manchester, New Hampshire. After nearly a decade of adventures outside of her home state, Dr. Rose is finally back in the Bay Area. She became a full time veterinarian at North Pen in July 2016. In addition, she works with Well-Pet Vet Clinic in Pittsburg, CA, providing affordable preventative care and vaccines for the community; and volunteers with the spay/neuter program of BADRAP, a Bay Area-based pit-bull advocacy group. In her spare time, Sara loves to hike, camp, and kayak with her mini daschund mix Reggie. She also travels as much as possible, makes wine with her family, and gardens with her backyard chicken flock "The Golden Girls".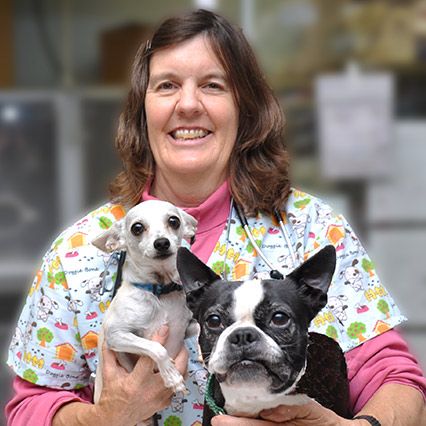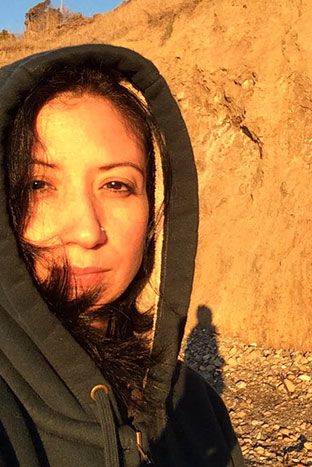 Dr. Lilliam Alfarro, DVM

Dr. Alfaro pivoted from a focus on going to law school in the span of one day due to an injured bird and has never looked back. She received her DVM from The Virginia-Maryland Regional College of Veterinary Medicine and has practiced veterinary medicine in many different contexts including shelter medicine, primary care, emergency medicine. She and her husband enjoy the company of two young sons and a daughter and a little squadron of furry companions.
Dr. Cynthia Essig, DVM
Dr. Essig was born and mostly raised in Silicon Valley. Her childhood was split between West Valley and Asia, never more than an hour from the Pacific Ocean. A lifelong equestrian, she left her original career as a mathematician to train horses and ponies for dressage and jumpers. After an injury rendered her unable to ride full time, she decided to become a veterinarian. Her degrees include a BS Mathematics from Cal Poly San Luis Obispo, MS Mathematics from Purdue University, and a DVM from Michigan State University. Adjunctively, she is a certified yoga instructor, sailing boat captain, and equine sports massage therapist. She has a passion for rehabilitating and retraining Thoroughbred ex-racehorses for sporthorse careers, with a particular fondness for small red mares with chrome.
Management

​​​​​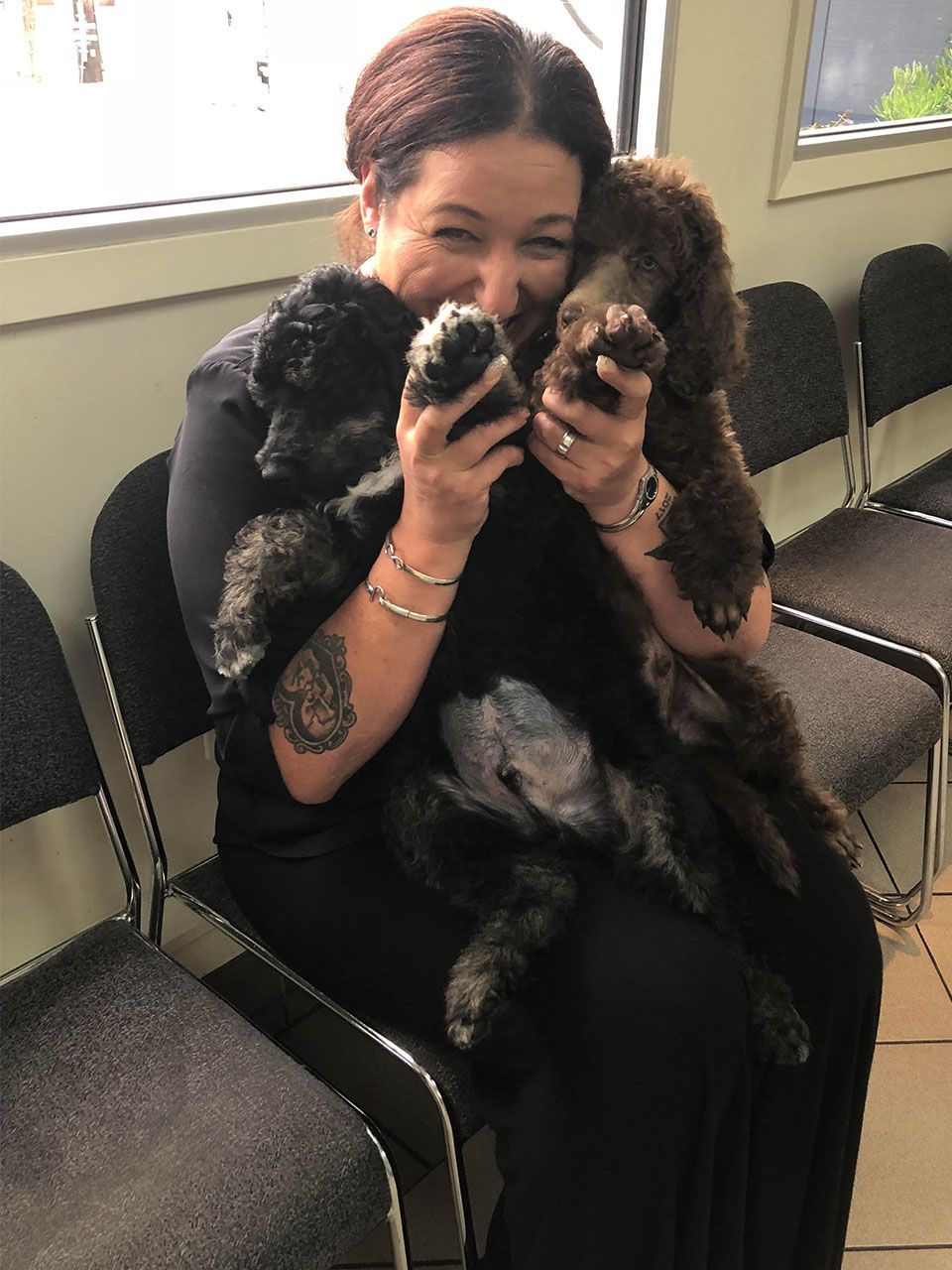 Tricia Mallory, CPM, CRVT
Practice Manager
Tricia has extensive experience in the Veterinary field. Earning her Certification as a Veterinary Technician in 1993, she continued to further her career by becoming a triple boarded Veterinary Technician in Critical Care, Dentistry, and Radiology. For the past 14
years
she has worked in practice management, practice development, and marketing. In 2009 she became a Certified Practice Manager.
[email protected]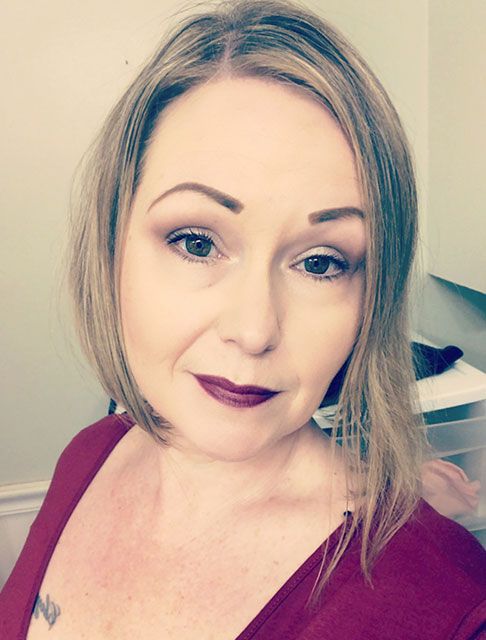 Tammy
Office Administrator
​​​​​​​
Tammy always knew she had a passion for helping people. She didn't learn until later that much of her life's work would involve improving the health and well-being of other people's beloved pets, but it has become one of her passions. She has worked in general veterinary practice, emergency, and oncology, for a total of 18 years now, and continues her learning odyssey by joining North Peninsula Veterinary Emergency Clinic. She now has a dog named Apple. In her free time she loves dancing, cooking, board games and outdoor activities with her children.
Specialists

​​​​​​​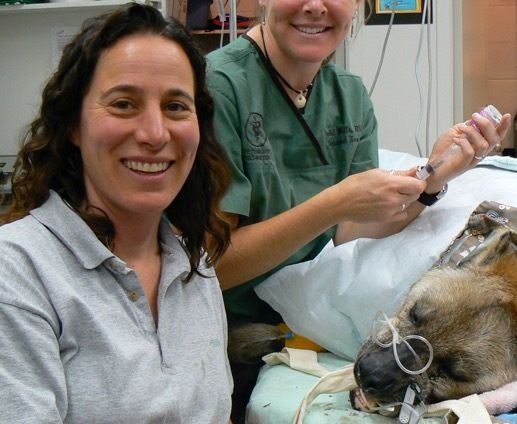 Dr. Amy Allen, DVM, Diplomate, ACVIM
​​​​​​​Internal Medicine & Endoscopy

Dr. Amy Allen received her B.S. in Biological Sciences from Stanford University and her Doctor of Veterinary medicine from UC Davis. She completed an internship and residency in Internal Medicine. Dr Allen performs in-house endoscopic procedures, which include foreign body retrieval and biopsies or sampling from upper and lower GI, rhinoscopy, nasopharyngoscopy, laryngoscopy, bronchoscopy, vaginoscopy and cystoscopy. As a board certified internist, she is also available to consult on a number of different types of cases. Dr. Allen can be found spending time with her family in the North Bay and loves to play soccer and travel.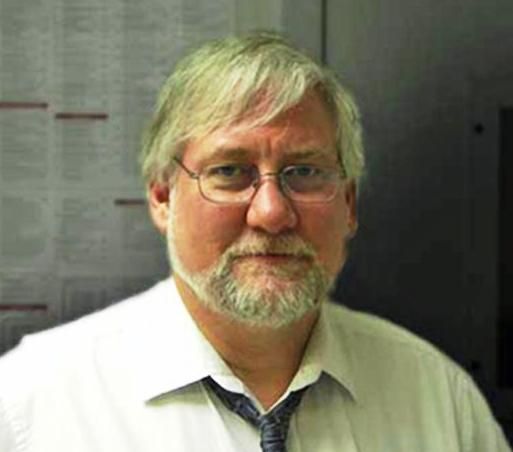 Dr. Bill Rivers, DVM, DACVR, PhD Radiology
Radiologist

We are very pleased to have Dr. Bill Rivers as our consulting radiologist. Dr. Rivers graduated from the UC Davis School of Veterinary Medicine in 1984 and, after an internship with Dr. Steven Ettinger in Los Angeles the following year, he practiced general small animal medicine in the San Francisco Bay Area for several years. Dr. Rivers then completed specialty training and a PhD in Radiology from the University of Minnesota. He became board-certified as a specialist in Veterinary Radiology by the American College of Veterinary Medicine in 1995. After being on staff at two veterinary schools and a private specialty practice, he established his Bay Area Consulting practice in 1989. Dr. Rivers performs the more complicated ultrasound examinations on our patients. His extensive training and experience helps us to provide the highest level of care for our patients.
Dr. Carrie Jurney DVM, DACVIM
Neurologist

Dr. Jurney is originally from Atlanta, and graduated summa cum laude from the University of Georgia, College of Veterinary Medicine in 2005. After vet school she completed an internship at the VCA Specialty Center of Seattle and her neurology residency at the University of Pennsylvania. She was awarded her neurology diplomate in 2009 and her Advanced Neurosurgery Certificate in 2011. While at UPenn she found her love of teaching, and excelled making the often unloved doctrine of neurology both understandable and practical for her students. This skill has served her well across numerous speaking engagements, in teaching residents and while educating her clients about their pet's condition. Dr. Jurney is an enthusiastic clinician. While she enjoys all of neurology, neurosurgical procedures and neurocritical care have a special place in her heart. n 2015, she decided to combine her love of neurology, traveling and education and Jurney Veterinary Neurology was formed. She currently lives with her husband and their pets in beautiful San Francisco. In her spare time Dr. Jurney is a sculptor, stained glass artist and adventurous cook.
Dr. Dean Filipowicz, DVM, MS, DACVS

Surgeon
Dean is published in several veterinary journals, has co-authored book chapters, and has spoken at a number of conventions and symposiums. His masters research investigated an emerging type of orthopedic fixation which has since become the gold standard in human and veterinary orthopedics. Dean's special interests include fracture management, sports medicine, oncologic and reconstructive surgery, minimally invasive surgery and advanced, multi-modal pain control.
When not at work, Dean can be found enjoying all outdoor physical activities that the area has to offer, especially if they involve water or mountains.